Riding School Progam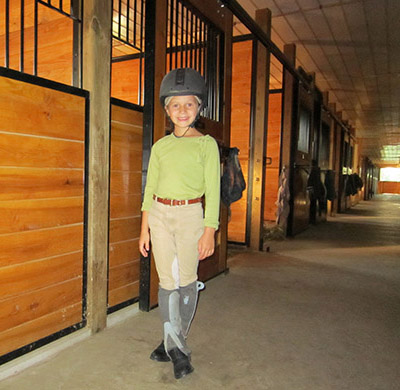 IF YOU SEND US AN EMAIL THROUGH THE CONTACT PAGE PLEASE CHECK YOUR OTHERS FOLDER FOR A RESPONSE.
If you would like information on leasing one of our wonderful ponies, or are looking to join our show program feel free to contact us!
Our focus at Gordonhurst Equestrian Centre is to provide a well rounded educational program for dedicated young riders who are looking to excel in Equestrian sport. We carefully develop riders in a safe and friendly environment where we focus not only on riding skills but also on good horsemanship, which is undoubtedly one of the keys to success in any rider even at the highest levels of the sport. We believe that riding provides a unique opportunity for children to learn about responsibility, self reliance, compassion and goal setting.
Our Equestrian Centre is not only a place where children learn proper riding and horsemanship skills but also develop friendships with fellow equestrians sharing in their love of horses.
Students joining our riding program typically ride two to three times per week.
The ponies in our program are the best anyone could ever hope to learn on. They are beautifully trained, have exceptional temperaments and each one has enjoyed years of success in the show ring. We invite you to take a look at our Meet the Horses page.
Our riding program runs year round with our winter lessons taking place in our large indoor arena with comfortable climate controlled viewing lounge. Parents can enjoy watching riding lessons without braving the cold.
Currently enrolling for a limited number of new riders who are interested in joining our competitive program
Assessment Riding Lesson
This is a private lesson offered to riders who are new to Gordonhurst Equestrian Centre. It is 45 minutes in length and includes a barn tour, an overview of grooming and tacking up procedures and an assessment riding lesson. $113 ($100 plus HST)
Enrollment
Those wishing to enroll in our competitive program you may CONTACT US to schedule an assesment lesson or with any further questions. You will be required to fill out a registration form and waiver and submit them along with your payment prior to the assesment lesson.
We ask that you take the time to carefully read our rules and barn policies prior to your assesment lesson.
Horse Riding Attire
For new riders joining our program:
Riders are expected to wear the following:
Properly fitted helmet (girls with long hair wear hair in a low pony tail put up in their helmet with a hair net)
jodhpurs with a belt
paddock boots
riding gloves
well fitted waist length shirts/ vests/ jackets with no hoods
stud earings only
In colder weather:
In colder weather riders should dress in layers that can be removed without going over their heads so they do not have to remove their helmet. Wear more than you think as it's easy to remove a layer if you need to. The following items help with cold weather riding:
an extra jacket
neck warmer/ scarf
*hot shots hand and feet warmers
ski rated base layers (top and bottom)
winter riding gloves
ear muffs designed for riding helmets
winter riding boots
Forms